This week Carole has been busy thinking up some crafts you can do over Easter that really capture that holiday feeling. The first is a decorative Easter Egg you can keep forever (or give as a gift) and the second is a beautiful bird's eye view of the beach, painted onto a pebble or something similar you might find at home. Here's how to make them – over to you Carole!
How to Make a Forever Easter Egg
You will need:
Pebble or something to paint, ideally as egg shaped as you can find
Wire
Sticky tape
Paint brush and paint (I used a match pot sample of matt paint)
Glitter glue pens, stick on gems or any craft materials you have to decorate it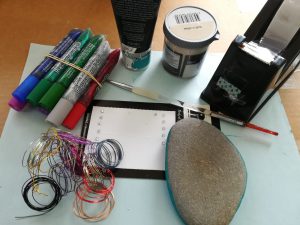 I began by giving the pebble a coat of paint.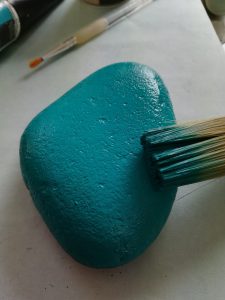 2. When the paint is dry tape the wire to the back of the pebble, at the top. I used about 30cm of wire.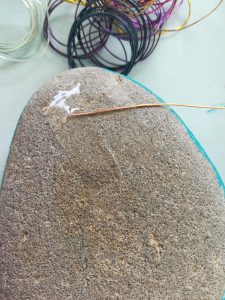 3. Carry on wrapping the wire around the pebble and then stick down with more tape.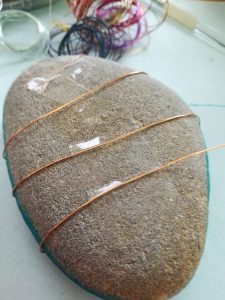 4. The front of your pebble should now look like this: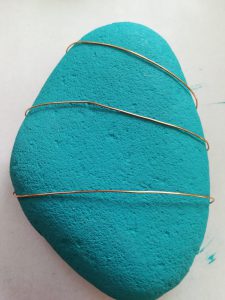 5. Start with decorating it with adhesive stones  or whatever you have, maybe just dabs of paint.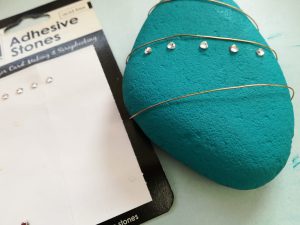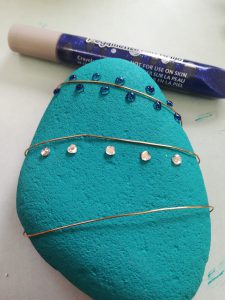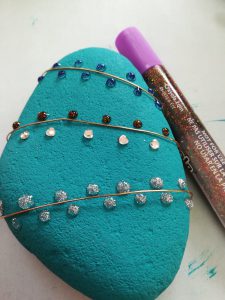 This is how my finished stone looks: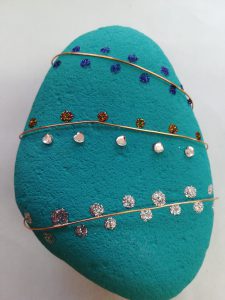 How to Make a Bird's Eye View Decorated Pebble
You will need:
Pebble or something to paint
Paint brush and paint
Glitter glue pens
Photo of a bird or similar (I'm not good at drawing but you might be so you could always draw your own)
Glue or double sided tape (I used a double sided sticky pad cut to size)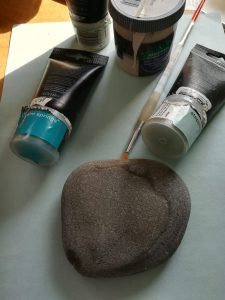 This pebble has a natural  line on it,  like the edge of the sea, so I followed it with blue paint.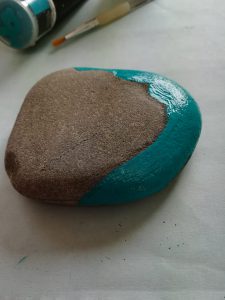 2. Next I painted the rest of the area  in cream as the beach, with a few wisps for the waves.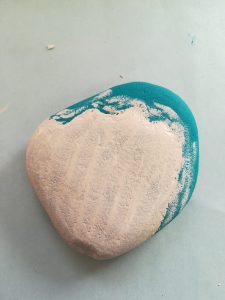 3. When dry, which didn't take long, I used some glitter glue to give the waves some sparkle.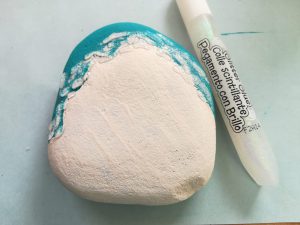 4. I found an image of a flying bird from a magazine which I cut out and stuck on with a double sided sticky pad. I then used felt tip pens to draw rocks and seaweed.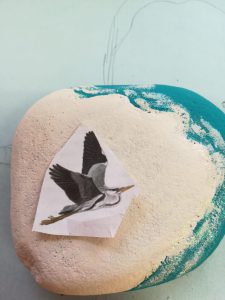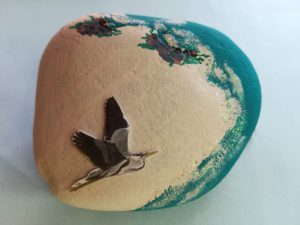 I'm longing to go to the seaside but know I must sit tight and stay at home for now. Happy crafting, kids!