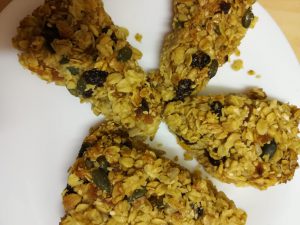 I found a recipe on the BBC website for flapjacks. Here's how I made them:
Ingredients
oil, for greasing
100g butter, cubed
100g golden syrup
50g mixed seeds, such as pumpkin, sunflower, linseed and sesame
150 g dried fruit  (I used raisins and apricots)
250g jumbo porridge oats
1 large egg, beaten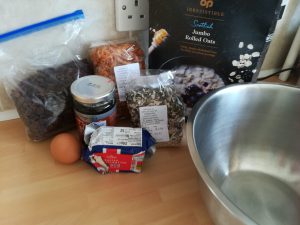 Preheat the oven to 200C.
Mix all the dry ingredients together, then add the egg and mix together.
Add melted  butter and golden syrup.  
Pop in a greased tin, press mixture down firmly and bake in the preheated oven for 18–20 minutes, or until golden and lightly browned around the edges.