Thanks to Crystal Macangus, Community Champion from Tesco Belmont and her colleagues who kindly donated £300 so that our Young Carers can enjoy an action-packed day out in the summer holidays! We're so excited and can't wait to update you on where we go and what we do.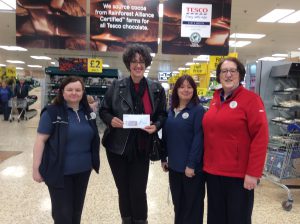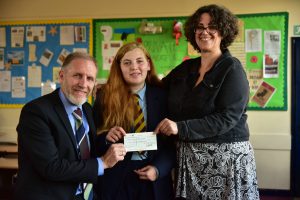 Student Mia Eacock and Mr Henton (Head Teacher) present a cheque to Susan Brace from Hereford Young Carers Club for £2500.A massive THANK YOU to The Bishop of Hereford's Bluecoat School for their fundraising efforts on behalf of Young Carers. Their donation has enabled our Young Carer clubs to continue and we are extremely grateful for their support.
Bishop's students, staff and Parents, Friends and Supporters Association have worked hard to raise the money following bag packs, fayres, bake sales, a golf day at Burghill. We commit fundraising for two different local and national charities every year.
Mr Henton said 'It is a great privilege to support charities which improve the opportunities and quality of life for other people. As a Church School, it shows the commitment of everyone in our community in helping others'.