This is a slightly different version of the potato based flan I did back in lockdown – click here to see that one.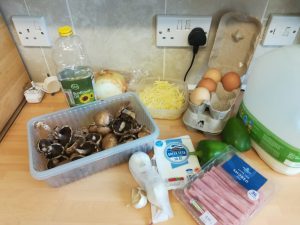 You Will Need:
Oil for greasing the dish
Wafer thin ham
Garlic
Onions
Peppers
Mushrooms
Cooked bacon
Feta cheese, cut into chunks
1.5 pints milk
4 eggs
You can pretty much add whatever you have to this bake, it's really flexible!
Use a little oil to grease an ovenproof dish. Lay the wafer thin ham as a base, overlapping the slices to cover the bottom and sides of the dish.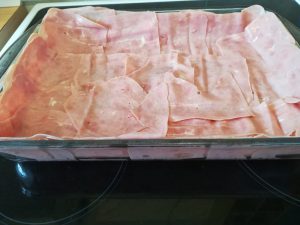 As in the recipe for the potato based flan, grill the bacon while lightly frying the garlic, onion and peppers. Pop it all into the ham-lined dish, add the mushrooms, feta cheese, then beat the eggs and milk together and pour into the dish.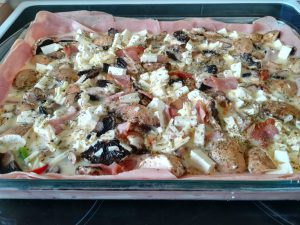 Cook in the oven at 160C for around 30-45 mins, depending on the size of the flan. It will be cooked when the egg and milk mixture is set. Serve hot for tea and cold in a picnic – cook once, eat twice!