There's a bit of a theme with this week's Carole Crafts, it's all about doing and growing it yourself. Bank Holiday weekends like the Easter one we've just had are usually times when people flock to DIY stores or garden centres , eager to improve their homes and gardens. As we're all staying at home right now perhaps Carole can inspire you to find a project you can do with what you may already have around you?
Painted Drawers
I had these honey pine drawers that I wanted to make more exciting. This is how they looked after I sanded them down outside: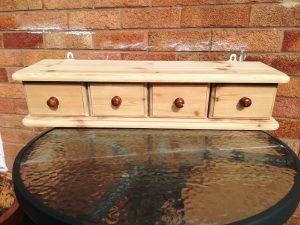 (Sanding off any existing paint and/or varnish gives a better surface for new paint to stick to.)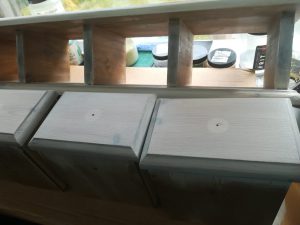 Next I removed the drawer knobs and gave them a coat of paint primer, which gives a good base for painting in your chosen colours.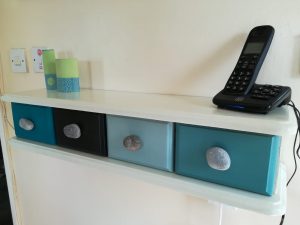 Here's the finished item. I used some leftover cream paint from when I painted my kitchen cupboards for the outsides. The drawers were painted with sample paints (one of the colours I used on the painted stones project last week). I gave the drawers 3 coats of paint and when they'd dried about 24 hours later I gave them a coat of varnish. The pebble knobs were bought about 4 years ago from Sainsburys which shows how long I've been intending to do this project!
Carole's Cultivation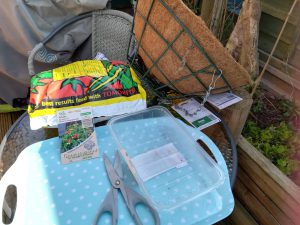 You will need:
I've only grown mustard and cress before so I haven't got much of a clue with veg but thought I would give it a go! I've chosen carrots, hanging basket tomatoes and rocket salad leaves.
I've used containers as my garden isn't big enough to dig a vegetable patch and I thought it would be good to show how things can be grown in limited space.
Carrots
This pot was half full with old soil and compost so I just topped it up with new compost.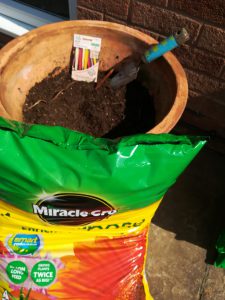 On the packet it says sow seeds in a row. I couldn't do rows in a round pot so I made 2 circles about 2cm deep, scattered the seeds in, covered them with compost and then gave it a water.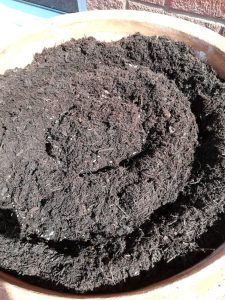 rocket salad leaves
I put some stones for drainage in the bottom of the container and filled it with compost. Then I made trenches around 1.5cm deep in rows, scattered the seeds in, topped with more compost and watered.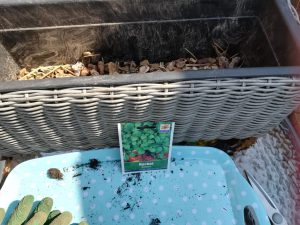 I had a few seeds left over so put some in an old, washed out meat container.  I've been watering all the seeds daily and here they are starting to sprout already after just a couple of days!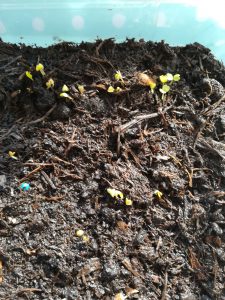 Hanging basket tomatoes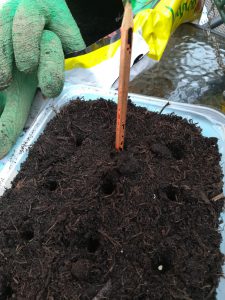 I've planted these seeds in an old washed out food container, the type that may originally have held meat or strawberries, etc. I used an old pencil to make holes for each seed in the compost. Then I covered the seeds with more compost and watered them.
This container is in the house, on the windowsill, as I haven't got a greenhouse. Once they have grown they will get transplanted to bigger pots and then the last stage will be to transfer them to the hanging basket. I'll keep you all posted on progress!